Join us at our AAUW Tacoma Branch January Meeting
Lea

ding with a Purpose 
Date: Saturday, January 19, 2019
Time: 10 am – 12 pm
Location: Eastside Community Center – 1721 E 56th St., Tacoma, WA 98404
Desiree Wilkins-Finch is the Pierce County Manager for FUSE Washington. She sits on the board for The Krista Foundation for Global Citizenship, Citizens for a Healthy Bay, Tacoma Roots, and Planned Parenthood Votes.
Bio: Desiree was originally born and raised in Chicago, Illinois. As a graduate from The Ohio State University, she earned a BA in Liberal Arts and Sciences with a focus on West African Studies. During her stay at OSU, she developed a love for travel and for community. She firmly believes that we have all been given the task of caring for each other; we should open our hands to our brothers and sisters, to those in need and to the poor. As a firm believer in the collectivism of faith and community, Desiree has spent 15 years as an organizer spreading a message of hope, action and change. This set of beliefs led Desiree to pursue a MA in Leadership with an emphasis in Marriage and Family Therapy. Desiree is dedicated to helping communities transform as they access their own strength, converting it into power and taking action. Her coaching is centered on the idea that leaders drive values, values drive behaviors and behaviors drive a community. Only then are communities strengthened to take action; which is power.
In her spare time, Desiree is a flautist and enjoys spending time with her husband and son.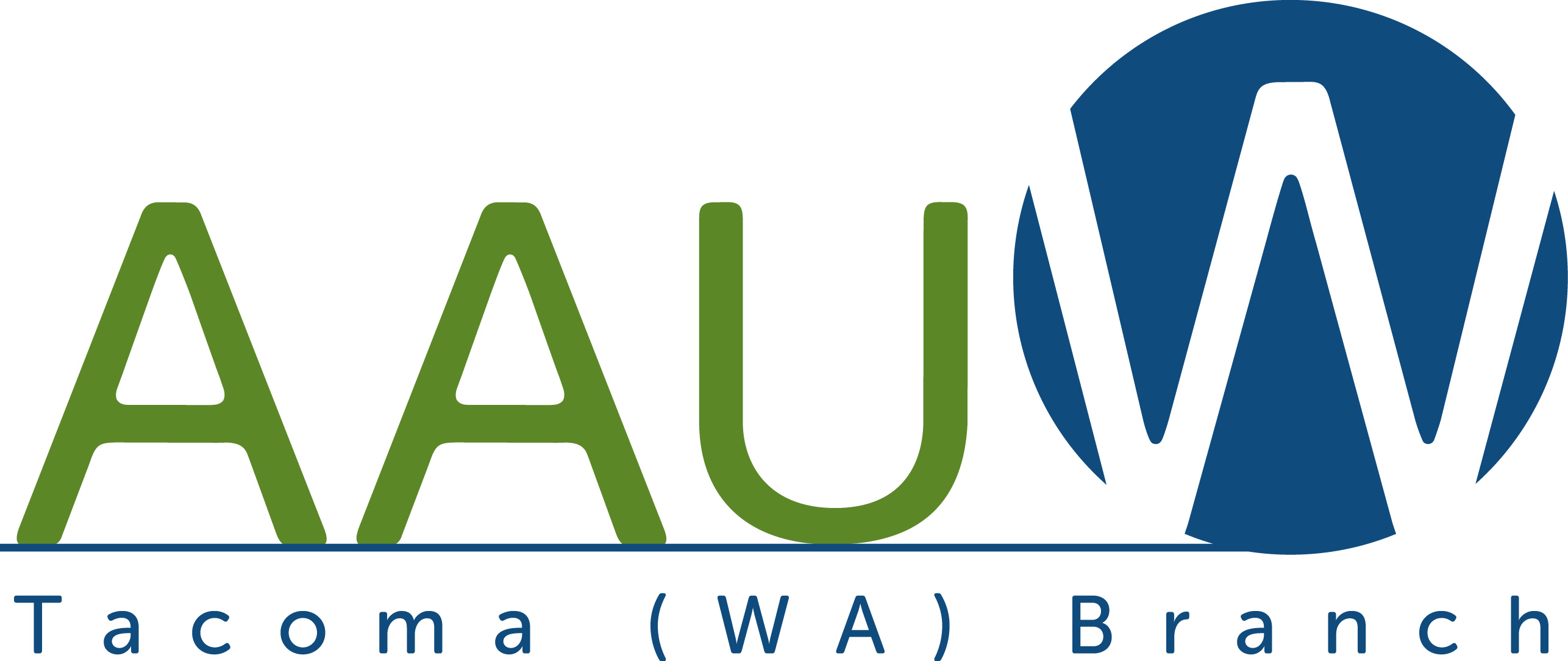 Welcome to the Tacoma, WA Branch of AAUW!
Tacoma AAUW is the premier organization in our community dedicated to promoting equity for women and girls.  AAUW empowers women!
American Association of University Women (AAUW) is a nation wide organization with nearly 1000 branches and over 150,000 members. Our mission it to advance equity through advocacy, education, philanthropy and research.  In the Tacoma branch, members come together for the common goal of breaking through education and economic barriers for women and girls.
Public Policy: For over a century, the Tacoma branch has examined and taken positions on the fundamental issues of the day.  Today, our agenda includes pay equity; improved and stable funding for public education; protecting the reproductive health of women and girls.
STEM: Tacoma branch sponsors middle school girls for Tech Trek, a week long camp to teach, inspire, and strengthen girls' knowledge and dedication to science, technology, engineering and math.  We want to remove barriers women face to careers on STEM. Tech Trek WA is a life-changing opportunity for girls to excel in math and science.  To support this effort and donate, click here.

Scholarship:  For many years, the branch has offered scholarships for college women.
Leadership:  Through our partnerships with Pacific Lutheran University, University of Washington Tacoma, and Pierce College, we offer college women student leaders the opportunity to attend leadership training and networking in Washington D.C.
Education: We offer members and the community regular programs to learn about ways to improve lives of women and girls.  Recent programs include:  "After Sexual Assault: How women can get care and why they usually don't"; "The Politics of Being a Woman;"  "The Importance of Community Health Centers";  Prison Pet Partnership";  Overcoming the Glass Ceiling in Arts Leadership.
JOIN US: MEMBERSHIP MAKES AAUW A STRONG VOICE IN TACOMA, UNIVERSITY PLACE, LAKEWOOD AND BEYOND!!
To contact us, please send email tacoma@aauw-wa.org
Our most recent newsletter can be found here. Check it out!
And if you would rather print out a membership application, please go to the members center tab. You will find the new member and renewal forms there.
Click on any image below to see more AAUW Tacoma members in action!